February 2020

---
< January 2020 || Index || March 2020 >
---
Jay Myself [2018]



Rotten Tomatoes = 94 / 83
Personal = 7.7

In 1966, world renowned photographer, Jay Maisel bought an old, 6-story, building (previously a bank) in Manhattan. Over the next 48 years, he filled its 35,000 sq. ft. with stuff ...not because he's a hoarder, but because he sees vision and beauty in everything. 48 years later, he sells his building for $55mil ...and now has only a few months to clean it out. I'm not one for biographies but this was the exception. As a colorful character with a unique world vision, Jay's simply a delight to get to know. The treasures, the people, the family, even the movers, held my interest firmly throughout and left me with a smile on my face.

---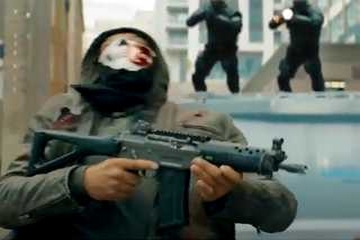 Code 8 [2019]


Rotten Tomatoes = 80 / 73
Personal = 5.6

People with powers, a drug called Psyhe and a police swat team for a major city, with drones and mecha-officers called "Guardians", are all relatively unnecessary in this typical and cliche story of a down-and-out guy getting mixed up with gangsters in hopes of earning enough money to save is ailing mother. Not a whole lot happens beyond that and many of the principal's goals go unrealized making this all somewhat rather pointless. It's not a bad film. In fact, it's rather good in its mediocrity with the sci fi elements giving it some flash. But, unfortunately, that's all it is ...mediocre, at best.

---
Planned Reviews Coming Soon

---
For my IMDb version of this list, Go Here!

3 from Hell [2019]
13 Hours [2016]
100 Acres of Hell [2019]
Bloodline [2018]
Charismata [2017]
The Courier [2019]
The Company You Keep [2012]
Dabangg [2010]
Demon Wind [1990]
Elizabeth Harvest [2018]
Empathy, Inc. [2018]
The Evil Within [2017]
Feedback [2019]
Hidden in the Woods [2014]
Jungle [2017]
Ladyworld [2018]
The Lake Vampire [2018]
Line of Duty [2019]
The Loft [2014]
Miller's Crossing [1990]
Miss Peregrine's Home for Peculiar Children [2016]
Mute Witness [1995]
My Son [2017]
Official Secrets [2019]
Once Upon a Time in Venice [2017]
The Operative [2019]
Spy Intervention [2020]
The Worthy [2016]

---
< January 2020 || Index || March 2020 >