July 2018

---
< June 2018 || Index || August 2018 >
---
Sicario 2: Day of the Soldado [2018]

Rotten Tomatoes = 62 / 60
Personal = 7.9

After the Mexican cartels are known to be smuggling terrorists across the border, a highly covert black-ops mission is established to create a war between cartels. Then everything goes wrong. Superb performances by Josh Brolin and Benicio Del Toro, intensely realistic firefights and a constantly evolving story line makes this one far better than the first film ...which I found to be rather ho hum. Nicely done.

---
Phone [2002]
aka Pon


Rotten Tomatoes = 63 / 61
Personal = 4.3

A journalist is forced to change her phone number ...to one that belongs to a vengeful ghost. This exceptionally dull and confusing film had me totally perplexed through most of it. It just didn't seem to have any logic and sometimes I didn't know I was watching a flashback. I finally got the jest of it in about the last half hour which presented nothing new. Why do Asian films think long black hair is scary? The only scares here are terrified looks. However, Eun Seo-Woo's performance, at only 5-years-old, is fantastic!

---
Purge 4: The First Purge [2018]

Rotten Tomatoes = 52 / 48
Personal = 6.3

The new national ruling party conducts an experiment on Staten Island. For 12 hours no one will be punished for any crime. However, when the people decide to throw block parties instead of kill each other, the NFFA decides to throw in a few mercenaries. If you're looking for something as insane as the other 3 films, this ain't it. The reason is obvious ...this was the first one. Not well written - lots of silly plot points and stupid behavior - but, overall, it was a fitting prequel and generally quite entertaining.

---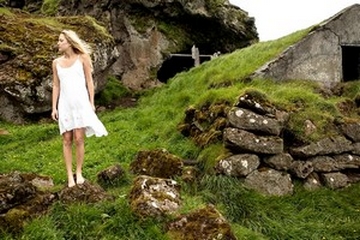 Bokeh [2017]

Rotten Tomatoes = 47 / 22
Personal = 2.4

A couple, on holiday in Iceland, wake up to find all the people are gone. The couple was likable, their confusion was genuine, and I settled in to see what would happen next ...and nothing does. They went through their various phases of exploring, disagreements, fun, anger, etc., just like any of us would with nothing beyond that ...except meeting an old man that dies on them within hours. After 90 minutes of now total boredom, I'm presented with an ending that is so pathetic and depressing, I actually got angry. Visually stunning.

---
A Man Escaped [1956]
aka Un condamne a mort s'est echappe ou Le vent souffle ou il veut


Rotten Tomatoes = 100 / 94
Personal = 4.8

A man, incarcerated by the Germans at Lyon in 1943, plans an elaborate escape. This French art film depicting a real story is interesting in how the prisoner works everything out and develops all the material he'll need. That's also the problem. He can easily owe about 70% of his success to the Germans themselves for making it easy to get all the equipment he needed as well as some pretty lax guarding techniques making the whole thing feel very contrived. It's also ponderously slow and about 30 minutes too long.

---
Flu [2013]
aka Gamgi


Rotten Tomatoes = 45 / 61
Personal = 5.0

A flu epidemic breaks out in a major city. This was pretty much as expected with unrelenting uncontrolled chaos and ultra stupid bureaucrats interrupted with a story of a rescue worker, a doctor and her daughter. It's not a really bad movie but I didn't like the main characters, the constant arguing among the officials, who're supposed to know what they're doing, got really old, everything seemed to drag out way too long and it never really felt authentic which only served to frustrate, rather than entertain me.

---
Doctor Strange [2016]

Rotten Tomatoes = 89 / 86
Personal = 7.7

A renowned and arrogant neurosurgeon has his hands crushed in an auto accident. In an attempt to find a way to heal them, he ends up at a center for the mystic arts and becomes a master. As usual with the MCU, the story was great, albeit somewhat rushed ...it's hard, even for a doctor, to learn the mystic arts and save the world in 2 hours. The spec fx are both awesome and annoying at the same time. There's just so much! ...my wife had to look away as she was getting motion sickness. Great film, though.

---
Skyscraper [2018]

Rotten Tomatoes = 51 / 79
Personal = 7.5

A security expert's family is stuck in the highest building in the world when terrorists attack. This modern era Die Hard is pretty much what you'd expect it to be. What it lacks in depth of characters and story it makes up for in one outrageous cliffhanger (literally) action sequence after another. And they manage to make it all look believable even though it's ludicrously over-the-top. Impressively thrilling, severely acrophobic and quite entertaining.

---
Planned Reviews Coming Soon

---
7 Nights of Darkness [2011]
Book Club [2018]
Captain America 3: Civil War (2016)
Castle Freak [1995]
Crank [2006]
The Fountain [2006]
The Hills Have Eyes (1977)
A History of Violence [2005]
Incredibles 2 [2018]
Jurassic World: Fallen Kingdom [2018]
Kingpin [1996]
Marked [2007]
Ocean's 8 [2018]
Road Kill [2010]
Southbound [2015]
The Suffering [2016]
Tag [2018]
Texas Killing Fields [2011]
There's Something Wrong with Aunt Diane [2011]
Voyeur [2017]
---
< June 2018 || Index || August 2018 >