September 2019

---
< August 2019 || Index || October 2019 >
---
The Girl Who Kicked the Hornet's Nest [2009]
(aka Luftslottet som sprangdes)









Rotten Tomatoes = 54 / 67
Personal = 8.0

Because of her actions in Dragon and Fire, Lisbeth recovers in the hospital while powerful people are planning to have her committed for life as she now has the key to their secret conspiracies. This one is not an action film. In fact, Lisbeth spends practically the entire film in a hospital or court, and the film is mostly about Millennium magazine's efforts to exonerate her. At this point, however, the Lisbeth character has become so compelling that, even without any real action, I was totally glued to the film and the 2 1/2 hour run time whizzed by.

---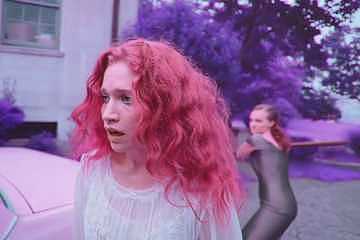 Braid [2018]







Rotten Tomatoes = 89 / 62
Personal = 6.6

The epitome of co-dependency, this is a nightmare journey into the psychologically twisted relationship of three friends (since childhood) where two of them put up with the third's fantasies in hopes of finding her money somewhere in the house. Fascinating and disturbing, don't expect it to make sense ...it wasn't made that way. The film takes you towards destinations only to jerk you away with these strings of travel left unfulfilled, impossible, or dismissing the trip entirely. In the end, you're left with, 'What the hell did I just watch?' Very subjective and weird.

---
Don't Go [2018]



Rotten Tomatoes = 39 / 29
Personal = 4.6

A couple (Stephen Dorff & Melissa George), attempting to rebuild their lives after the tragic loss of their daughter, is complicated when he believes he can bring her back through his dreams. Their performances dominate the screen and demand your attention. Unfortunately, the film itself suffers from pacing and ambiguities. If you had no idea what this film's about, you'd still be clueless 40 mins in. Then things begin changing at an unrealistic breakneck speed. Good twist but included some confusing and unexplained events. Strange.

---
Piercing [2018]


Rotten Tomatoes = 72 / 47
Personal = 4.9

A shy piquerist (look it up) decides to invite a prostitute to his hotel room to indulge his fantasies but finds that she's just as perverse as he is and totally insane. Although there was an attempt at black comedy (and will probably please those with a specific sense of humor), this movie suffers from being to sadistic to be funny and too absurd to be taken seriously leaving it just sorta flat and lifeless. The characters weren't particularly engaging or likable, either. Basically, just a lot of hurting themselves and each other for 90 mins.

---
Open Your Eyes [1997]
aka Abre los ojos








Rotten Tomatoes = 85 / 88
Personal = 6.8

The tragic and emotional journey of a playboy whose face becomes badly disfigured in an accident caused by a jealous lover and a game changing twist ending that earned it a spot on my Profoundly Twisted List. The story was excellent with a lot of odd and strange events that become clear in the end. However, it is long-winded and the acting, although very good, didn't reach the emotional level required for such a story and, as such, it came off as a bit melodramatic. Pretty good film, though, and well worth a watch.

---
Under the Silver Lake [2018]
aka Abre los ojos






Rotten Tomatoes = 58 / 56
Personal = 6.7

A young man goes on a search, through the Hollywood elite, for a girl he met one evening who's mysteriously disappeared. In a word, strange. The film follows the course of a mystery story where a person is searching for another. The difference is the events and encounters are surrealistically bizarre, full of hidden connections and secret codes that takes our intrepid hero on a trip to the fantastic. Like Braid, this movie is very subjective to it's viewers ...you'll like it of you won't. I, for one, am still trying to decide. Strange.

---
Planned Reviews Coming Soon

---
For my IMDb version of this list, Go Here!

11:14 [2003]
All Hallows' Eve 2 [2015]
Altered States [1980]
Angel of Mine [2019]
The Angels' Melancholia [2009]
The Bad Batch [2016]
Body at Brighton Rock [2019]
The Command [2018]
Gladiator [2000]
Gwen [2018]
Heat [1995]
House on Willow Street [2016]
I.T. [2016]
It Chapter Two [2019]
Long Shot [2019]
Maximum Impact [2017]
Men in Black: International [2019]
Midnighters [2017]
Mine 9 [2019]
Shadow [2018]
Silent Panic [2018]
The Snowtown Murders [2011]
The Tingler [1959]
The Woman [2011]
Zeitgeist: Moving Forward [2011]

---
< August 2019 || Index || October 2019 >