---
General Rules
These are the general rules that will apply to all games unless a specific game states otherwise.
Each trivia night event will consist of 4 subjects (known as games) with 20 questions in each game.
Game specific rules are posted below. They will also be posted in the chat room before each game.
Each question will be displayed for specified number of seconds depending on the game. At the end of this time period, an

followed by the answer will appear.
All players that post a correct response within that time scores! This means players don't have to be the fastest typist and the first one to answer. As long as the player's answer is there before the time period expires, that player will score points.
Exercise good sportsmanship. If you know the answer, by all means, post it!. If you don't know the answer, don't copy someone else's.
Players may not change their answers once they've posted them. Some games my ask for two or more answers. These answers may be posted separately but once posted, they cannot be changed.
In most cases, misspelled, abbreviated, and/or last name only answers are fine as long as it's recognizably clear that the player knew the answer. 'Close Enough' is pretty common.
There may be a delay between questions as I tally everyone's score. Please be patient.
Players should exhibit good gamesmanship and be respectful. Disruptive players may be kicked without warning.
---
Games for January 22, 2022
---
Game #1 - Name that Song / Artist
Players will receive a year and a clue to a specific song. I'm looking for the song Title and the Artist.
Players get 1 point for a correct Title and 1 point for a correct Artist. Total of 40 points possible.
Players will have 30 seconds per question.
---
Game #2 - General Trivia
Questions will come from a variety of subjects.
Correct answers are worth a point. Some questions have additional bonus points. Total of 35 points possible.
Players will have 25 seconds per question.
---
Game #3 - General Trivia Multiple Choice Pairs
Players will receive 5 choices for each question. Two of those choices will be correct.
Players will get a point for each correct choice. Total of 40 points possible.
Players will have 25 seconds per question.
---
Game #4 - Science Fiction Movie Picture Quiz
Players will be presented with a link to a screen shot of a Science Fiction movie along with the year the film was released and two of the lead actors.
Clicking this link will open the picture in another tab on your browser.
Closing this tab should bring you back to chat so that you can post your answer.
Guess the name of the film for a point. Guess the name of the director for 2 additional points.
Total of 60 points possible.
Players will have 40 seconds per question.
---
Other Trivia Shows
---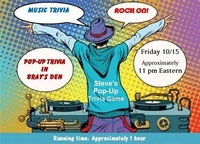 Steve's Pop-Up Trivia Show
October 15, 2021
Hosted by Steve AKA Bop
Winners (Tied for 1st):
BraveSirRobin
Lunare
---
If you would like to be notified of trivia news, scheduled game times, and other trivia stuff, you can
Send me an E-mail
and I will put you on the notification list. Your E-mail is private and I promise it will not be abused.
---