---
General Rules
These are the general rules that will apply to all games unless a specific game states otherwise.
Each trivia night event will consist of 4 subjects (known as games) with 20 questions in each game.
Game specific rules are posted below. They will also be posted in the chat room before each game.
Questions will be displayed for specific time period, as established by each game.
During this time, you'll want to type your answer into the send box but DO NOT POST IT!
At the end of the time period, you will see the message "Post Your Answers". You should then immediately send your response.
There will be roughly a 5 second delay before I post the answer which will be displayed as an

along with the answer.
All players who post the correct answer between the "Post Your Answers" message and the answer will score.
Due to lag, and at my discretion, I may accept responses after I've posted the answer if the responses come in immediately afterwards.
If you post your answer before the "Post Your Answers" message, you will still score but you may have just given the correct answer to others.
In most cases, misspelled, abbreviated, and/or last name only answers are fine as long as it's recognizably clear that the player knew the answer. 'Close Enough' is pretty common. However, if part of your answer is wrong, it's all wrong. For example: if the answer is Roger Moore and you just enter Moore, that's correct. But if you answer Robert Moore, that is incorrect as his name is Roger, not Robert.
Only your first responses are accepted. Posting multiple guesses or attempts to change an answer will be ignored.
There may be a delay between questions as I tally everyone's score. Please be patient.
Players should exhibit good gamesmanship and be respectful. There are other players, besides myself, that have hosting privileges and disruptive players may be kicked without warning. So, please be nice and have fun.
---
Trivia Night #27 - To Be Announced
---
Games have not been set up yet.
Check back later.
---
Other Trivia Shows
---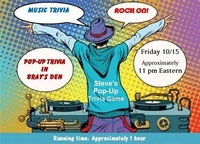 Steve's Pop-Up Trivia Show
October 15, 2021
Hosted by Steve AKA Bop
Winners (Tied for 1st):
BraveSirRobin
Lunare
---