My Library of Vassal Games
---
I've developed a few board and card games using the Vassal game engine, with "To Be King" as my flagship fantasy adventure game that I've spent the last 30 years working on. Unfotunately, I don't get to play them much as my gaming buddies prefer the garage to playing online. I tend to keep my modules private for a variety of reasons but I'm up for a game anytime.

I have a dropbox for easy transfer of the modules. I also use a Ventrilo v3.1 for verbal chat as it's simple, crisp, uses surprisingly little system resources and is practically trouble free. If you're interested in playing something, Drop me a note.

---
Dr. Nostromo's Home Page
---
Sleuth
Sleuth is a classic card game where players use interrogation and their deductive reasoning to find a missing gem. As it turns out, the guys in the group didn't particularly care for this game. So, I made a few modifications and placed it in the Vassal Module Library for public download. You can find it
HERE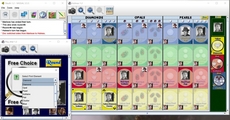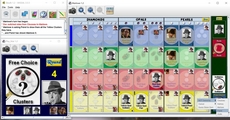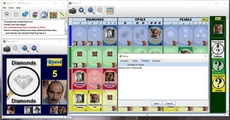 ---
Risky Warfare
This is a take on the classic board game, Risk, with a few alterations. I currently have 15 map variations in my library and I'm working on a template module that will allow people to easily create their own modules of Risky Warfare using their own maps and cards. I'll probably make that one publicly available in the future ...when I get around to it.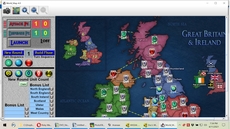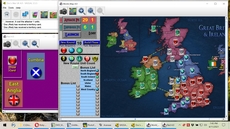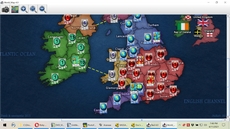 ---
Trivial Wars
Inspired by Trivial Pursuit, and is set up to use most TP card decks, this is one of our favorites. It plays sorta kinda like TP with a little strategy, variety and a fair dose of levity. Over 50 types of trivia cards are represented and, not just TP but cards like "Are You Smarter than a 5th Grader", "Movie Mania", "The Godfather Trivia", etc. I literally have thousands of trivia cards from over 50 different games and I usually mix up a box full of cards making for an interesting and varied game. Other players don't need a super mixed box of cards just as long as they have some trivia cards of some type, the game will play just fine.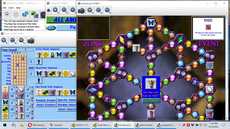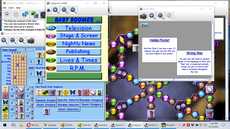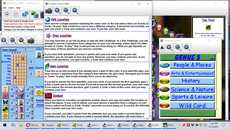 ---
Scattergories
This is just a simple interface for the playing of Scattergories. If you're familiar with the game, this is played exactly the same way. The only difference is that I've created over 300 categories and when the deal button is clicked, it picks 12 at random as well as a letter. I know Vassal has a chess clock so I'm assuming I can place some sort of timer in future editions.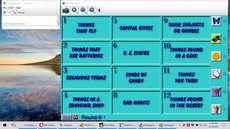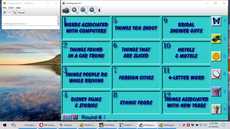 ---
Clue - Master Detective
Pretty much plays just like the classic game. No score sheets installed (have to keep track manually on your own) and it's certainly not as refined as Sleuth but it is perfectly playable and we've played it on several occasions.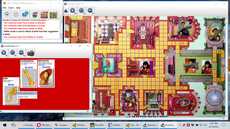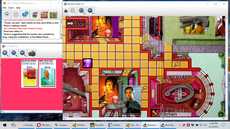 ---
Waterworks
Remember Waterworks? I threw this together one weekend as something to do. We've played it a couple time. Good time waster.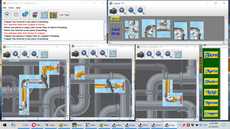 ---
To Be King
This is the big one. I was inspired by a game named Talisman, as well as D&D, over 30 years ago, and I started making a variation of that type of game. Since then, it's sort of mutated and grew and taken on a life of its own becoming a beast that would not be appeased. I still continue to refine it but I finally have a fully playable version that I'm satisfied with and have spent many 3 to 5 day campaigns struggling To Be King. If you like fantasy adventure games, you'll definitely want to play this!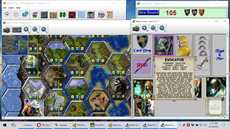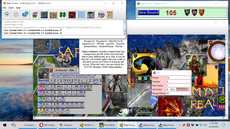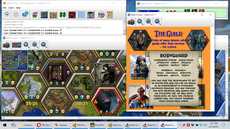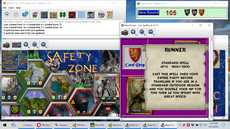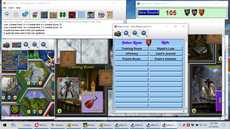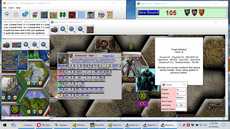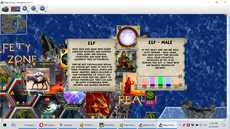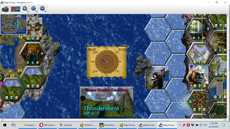 ---
Movie Review Home Page || MST3K Episode Guide || Doc's Prog Music Playlists
---