Season 5 [1993-94]
Comedy Central
---
&lt Season 4 || MST3K Index || Season 6 >
---
Mike Nelson would replace Joel Hodgson in the Satellite of Love during this season beginning with episode [0513] The Brain that Wouldn't Die.
---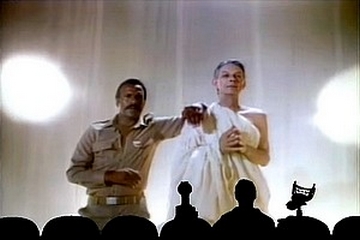 0501 - Warrior of the Lost World [1983]




A nomad mercenary on a high-tech motorcycle helps bring about the downfall of the evil Orwellian government, the Omega.

Director David Worth claims he was hired, sent to Italy, and told to begin work without a script. He was simply shown a ballyhoo poster and told to make a film that would go with it.

---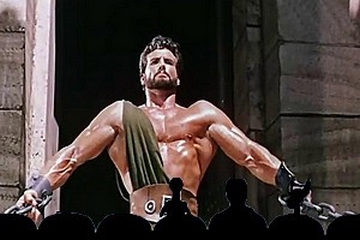 0502 - Hercules [1958]




The muscular Hercules performs his labors, sails with the Argonauts, and romances the fair Iole.

Major plot points were edited out of this version making it fairly incomprehensible ...like we really care.

---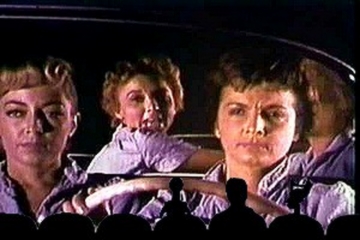 0503 - Swamp Diamonds [1956]
aka Swamp Women




An undercover policewoman helps three female convicts escape from prison so that they can lead her to a stash of stolen diamonds hidden in a swamp.

This film features male lead, Krekor Ohanian, better known as Mike Connors (Mannix) and listed in this film as "Touch" Connors. This is the oldest Roger Corman directed film featured on MST3K.

This episode also contains the short What to Do on a Date [1951]

---
0504 - Secret Agent Super Dragon [1966]



A series of murders in Michigan lead an American secret agent to Amsterdam, where he uncovers a plot to imperil the world with a potent new drug. The question of why a European organization would run their tests in Michigan is left mysteriously unanswered.

---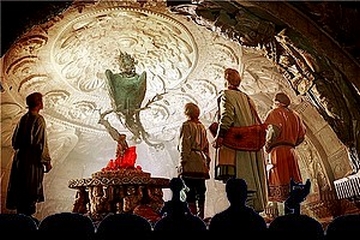 0505 - The Magic Voyage of Sinbad [1953]
aka Sadko




Arriving home to find his native land under the yoke of corrupt merchants, an adventurer named Sadko (renamed Sinbad for the U.S.) sets sail in search of a mythical bird of happiness.

Comedy Central used this episode for a contest: viewers were asked to write in and guess what the riff would be after Morgana (or whatever her name was) said "You seem troubled." The winner was a lady in New Jersey named Susan Schneider with the correct answer: "Have some Prozac."

---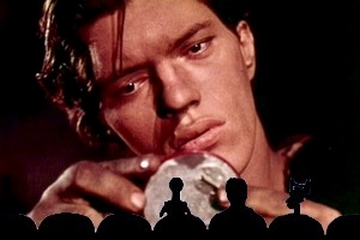 0506 - Eegah [1962]



While driving through the desert, a teenage girl is frightened by a seven-foot giant. After escaping, she returns to the site with her boyfriend and father in an attempt to find him. Yeah ...that's what I would do.


---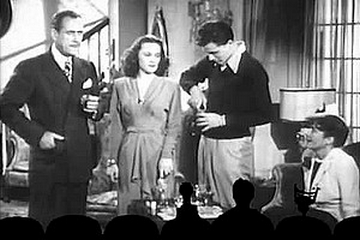 0507 - I Accuse My Parents [1944]


Ignored by his alcoholic parents, Jimmy Wilson starts hanging around with some shady characters. After falling in love with a lounge singer, Jimmy tries to impress her by doing jobs for her shady boss.

Hercules Unchained and this episode were Joel Hodgson's favorites.

This episode also contains the short The Truck Farmer [1954]. I wonder how hard it would be to farm trucks.

---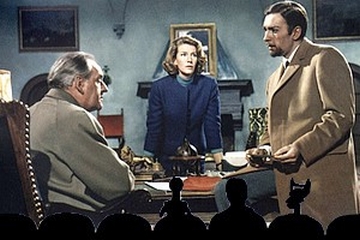 0508 - Operation Double 007 [1967]
aka Operation Kid Brother





The evil crime syndicate Thanatos is bent on taking over the world, using a magnetic wave generator that will cause all metal-based machinery to grind to a halt.

Neil Connery, Sean's younger brother, plays Neil Connery in the film. Many other actors, who played in James Bond movies, also appear ...and, like Neil, many of them play characters using their real names.

---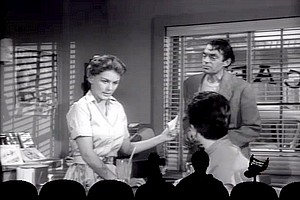 0509 - The Girl in Lovers Lane [1960]



When a wayward drifter named Bix finds himself attracted to a waitress, Carrie, he's forced to reexamine his whole drifting career. Meanwhile, Jesse (Jack Elam) goes around creeping everyone out.

The ending of the film infuriated everyone so much, Joel and the bots create their own alternate endings in the last host segment.

---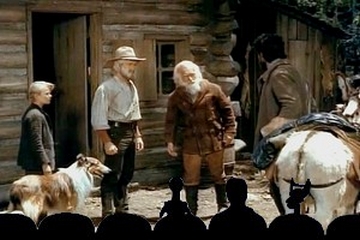 0510 - Lassie: The Painted Hills [1951]
aka The Painted Hills





Lassie the wonder dog comes to the rescue when a boy's life is put at risk by the inflamed greed of a gold strike.

One of the team's favorite characters, Pile on Pete, was in this film. They misheard the name. It was actually Pilot Pete.

This episode also contains the short Body Care and Grooming [1947]

---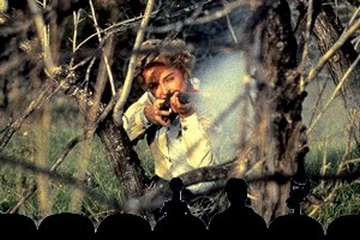 0511 - Gunslinger [1956]


After her husband is gunned down, Rose Hood takes his place temporarily as Marshal of a small Western town.

Production of the film was plagued by misfortune: John Ireland and Beverly Garland were attacked by red ants during their romantic tree-sitting scene, Beverly twisted her ankle and it became so swollen that her boot had to be cut off, and Allison Hayes broke her arm falling off a horse. This is the last episode Joel Hodgson would direct until the Netflix days.

---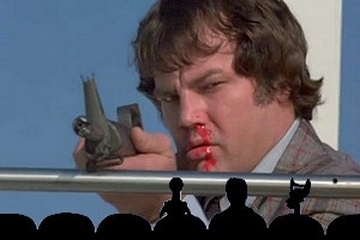 0512 - Mitchell [1975]




A sleazy, incompetent detective tries to simultaneously take down heroin dealers and a corrupt businessman who murdered a burglar.

Joel Hodgson's final regular appearance as host. Mike Nelson's first appearance as a Deep 13 janitor. Actor Joe Don Baker was very angry at the MST3K treatment of Mitchell and threatened physical violence on any of the cast or crew should he ever meet them in person. Later, he said he was just joking. Selected as a top 10 favorite episode.

---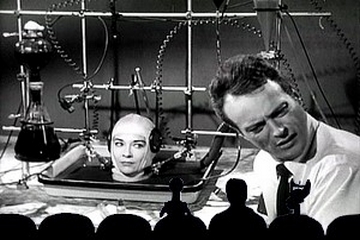 0513 - The Brain that Wouldn't Die [1962]




A doctor experimenting with transplant techniques keeps his girlfriend's head alive when she is decapitated in a car crash, then goes hunting for a new body. Naturally, he goes to striper clubs. Wouldn't you?

This episode marks the transistion from Joel Hodgson to Mike Nelson as the Host of the Satellite of Love ...who is portrayed as clearly out of his element. Mary Jo Pehl makes a hilarious guest appearance as Jan in a Pan.

---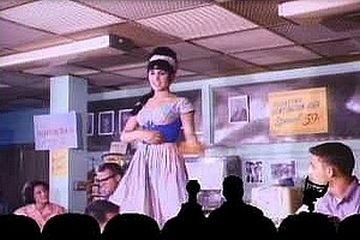 0514 - Teenage Strangler [1964]


A troubled teen with an undeserved criminal past is the suspect when young women start turning up around town dead and marked up with lipstick.

This movie was largely made by, and featured, people who had never made a movie before (including many relatives and friends of the director) and, not surprisingly, would never make a movie again.

This episode also contains the short Is This Love? [1957] ...most likely not meant to refer to the main features title.

---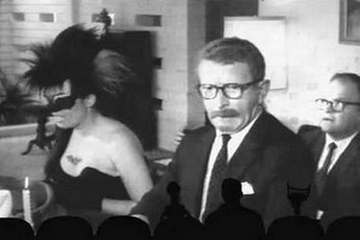 0515 - The Wild World of Batwoman [1966]




The pointlessly named Batwoman and her bevy of Batmaidens fight evil and shake their booty a whole lot.

The casting director showed up in front of a strip club as it was being raided and offered all the girls a role in the film. This episode marks the only time Mike brought popcorn into the theater.

This episode also contains the short Cheating [1952]

---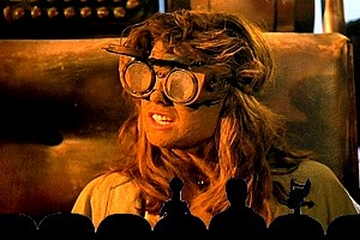 0516 - Alien from L.A. [1988]

Wanda is a shy plain girl with a very boring life. When her father, an archaeologist, disappears on an expedition, she flies out to look for him. She ends up in an underground world, where no one believes in a surface world.

Due to the final credits taking forever, Crow, Tom and Mike launch into a debate accusing the others of being into "femmy movies", which is classic.

---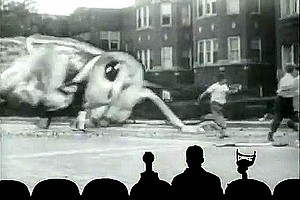 0517 - Beginning of the End [1957]



Audrey Ames, an enterprising journalist, tries to get the jump on a story about giant grasshoppers accidentally created at the Illinois State experimental farm.

Rhino, the company that packaged the original VHS tapes of MST3K, goofed when they put Joel as the host on the cover of the package for this episode ...this was Mike's 4th episode as host.

---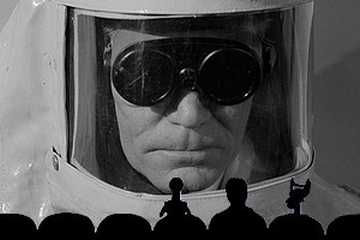 0518 - The Atomic Brain [1963]
aka Monstrosity




Somehow, atomic power is harnessed to transplant brains. An old woman uses this power to hire two sexy (and one homely), foreign housekeepers with the idea of transplanting her old brain into a sexy woman's head.

This episode also contains the short What About Juvenile Delinquency? [1955]

---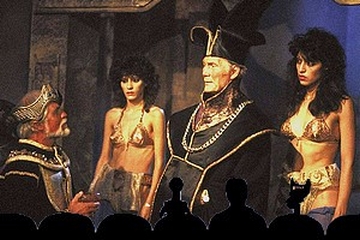 0519 - Outlaw of Gor [1988]
aka Gor II





An Earthman returns to the planet Gor, and fights against tyranny in the form of Jack Palance.

The song, "Tubular Boobular Joy", done by Mike, Crow, and Servo in one of the host segments, is considered a classic among MST3K fans and uproariously funny.

---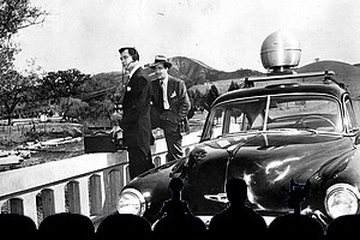 0520 - Radar Secret Service [1950]



G-men track a stolen Uranium-238 shipment using new radar technology; they also recruit the girlfriend of a gang member as an informant. Radar helps, but it takes an undercover blonde to really get the goods on criminal masterminds.

This episode is one of my all-time favorites (even though the MST3K crew hated it) - Doc

This episode also contains the short Last Clear Chance [1959]

---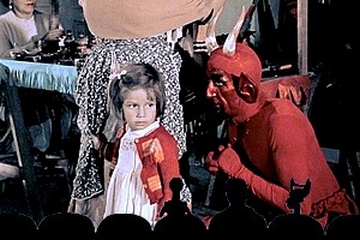 0521 - Santa Claus [1959]




With the aid of Merlin, Santa Claus must defeat the evil machinations of the devil Pitch from ruining Xmas.

This film was made in Mexico during a time when sci fi and fantasy had not been done much in Mexico. As a result, they saturated the color and created some bizarre, out-of-this-world sets and very colorful characters, like the devil, Pitch, making the whole film rather odd.

---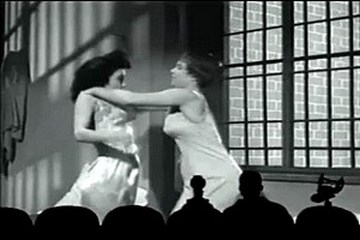 0522 - Teenage Crime Wave [1955]

A delinquent girl involves an innocent friend in an armed robbery followed by a jail-break and hostage-taking with her equally delinquent boyfriend.

---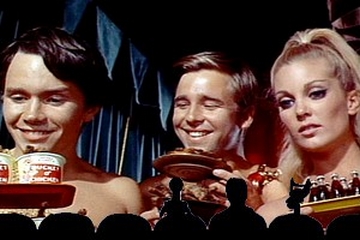 0523 - Village of the Giants [1965]




Delinquent teen-agers ingest a substance and grow thirty feet tall, then proceed to take over and harass a small town.

The usual stinger (the small film clip shown after the credits) was replaced with a tribute to the late great Frank Zappa who had recently passed away. This episode also includes the hit MST3K tune, "Let Me Be Frank about Frank".

---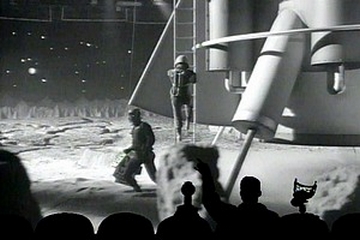 0524 - 12 to the Moon [1960]


An international team embarks on an expedition to the moon in an uncommonly spacious rocketship. There they encounter scaffolding and a faceless alien intelligence who concludes that the human race is too immature and dangerous and must be destroyed. Is that you, Ultron?
Mike and the bots come up with about a dozen different 'tough guy' names for Capt. John Anderson, in the film. They would do this again in Space Mutiny. Bridget Jones is the star of the show as she dances around during the host segments as Nuveena.
This episode also contains the short Design For Dreaming [1956]

---
&lt Season 4 || MST3K Index || Psychotronic Movie Review Index || Season 6 >