Season 3 [1991-92]
Comedy Central
---
&lt Season 2 || MST3K Index || Season 4 >
---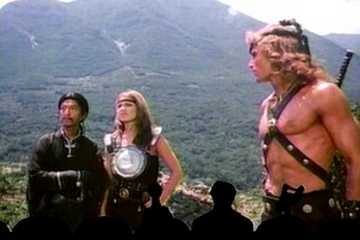 0301 - Cave Dwellers [1982]
aka The Blade Master






Ator must save a former mentor and battles cavemen, invisible swordsmen, and barbarians with his new sidekick, Thong, to finally have the ultimate showdown with Zor.

This episode is a top ten fan favorite. It was broadcast the same day that Comedy Central officially went on the air (they were known as "The Comedy Channel" before that).

---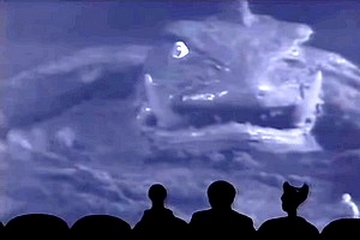 0302 - Gamera [1965]
aka Daikaiju Gamera





From out of the arctic comes a gigantic flying, fire-breathing turtle that sets its sights on destroying Tokyo.

Watch for Joel getting fed up and ripping off Crow's arm and flinging it away ...twice! He also says it's not such a bad movie; the only time an on-air compliment was paid to any of the films they featured.
This is a national reprise of the local broadcast of episode K05

---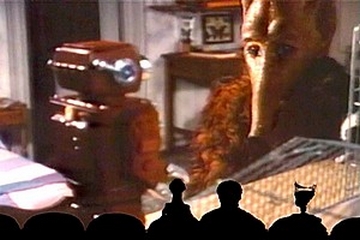 0303 - Pod People [1983]
aka Extra Terrestrial Visitors






Gizmoplex is currently running a live chat stream for this episode.

A little boy, who has an extensive array of pets he likes to call "specimens", finds an alien egg to hatch, somewhat like Horton. The creature manages to use his snout to suck up peanuts and warp time and space with his fingers.
Makeup lady (and occasional writer) Faye Berkholder makes her one and only guest appearance in this episode. For years, fans mistakenly believed that it was writer Bridget Nelson.

---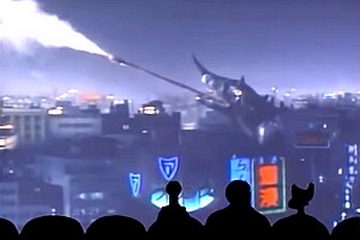 0304 - Gamera vs. Barugon [1966]



A giant monster, accidently hatched from an ancient egg found in a cave on a remote island, that emits a destructive ray from its back, attacks Japan and takes on Gamera.

The only Gamera movie that doesn't feature children befriending the giant turtle.

This is a national reprise of the local broadcast of episode K04

---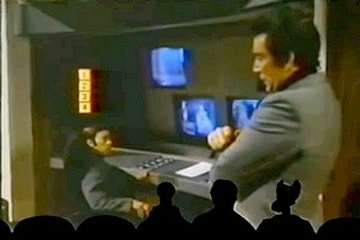 0305 - Stranded in Space [1973]
aka The Stranger


After a freak mishap, an astronaut finds himself on an almost precise copy of Earth (right down to the Plymouth cars). However, this planet has three moons, and is run by an Orwellian government called The Perfect Order, who seek out and crush all dissidents.
Originally a pilot called "The Strangers", the film was re-edited into Stranded in Space. This is one of 3 films riffed by MST3K that used the premise of a hidden 'Earth' directly opposite the sun from ours. The other two were Gamera vs. Guiron and Outlaw of Gor.

---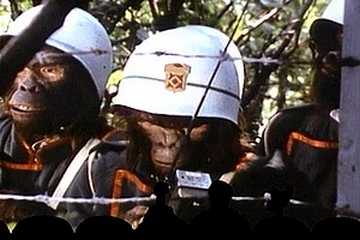 0306 - Time of the Apes [1987]




Three bumbling morons accidentally stumble into a cryogenic freezer and end up in the future, where monkeys populate the Earth.

Eli Kenneth Mallon, Jim Mallon's newborn son, appears in this episode.

This is a national reprise of the local broadcast of episode K17

---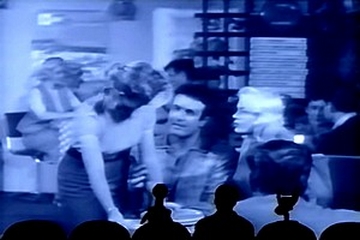 0307 - Daddy-O [1958]


Phil, a part-time truck driver and singer who wears his pants far too high, meets a feisty platinum blonde who gets him involved with drag racing, drug running, and he must fight to save his friends and himself.
The movie features the famous John Williams in his debut in Movie Music Composing. Paul Chaplin joins the MST3K crew in this episode as a contributing writer.
This episode also contains the short Alphabet Antics [1951]

---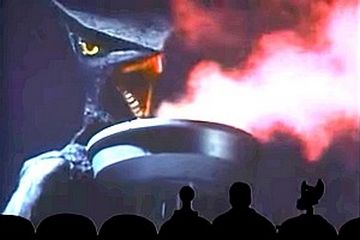 0308 - Gamera vs. Gaos [1967]
aka Gamera vs. Gyaos





A gigantic bat emerges from a volcano to terrorize Japan and only one thing can stop it...Gamera!

This is a national reprise of the local broadcast of episode K06

---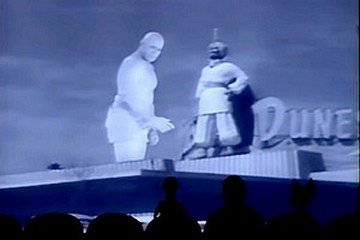 0309 - The Amazing Colossal Man [1957]

Lt. Col. Glenn Manning is inadvertently exposed to a plutonium bomb blast at Camp Desert Rock. Though burned over 90% of his body, he survives, heals, and begins to grow to a gargantuan size ...as well as lose his mind.

Strangely, in the movie, the doctor declares that Glenn's heart isn't growing as fast as the rest of him due to the human heart being comprised of "a single cell". Crow retorts "You're not a real doctor, are you?"

---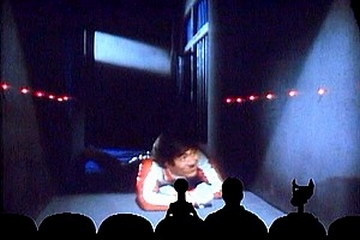 0310 - Fugitive Alien [1987]


An alien is pursued as a traitor by his own race because he refuses to kill humans.

The film was compiled from episodes of a Japanese sci-fi series based on Star Wolf. The "Forklift Song" become a huge MST3K fan hit during this episode. It was used again in the sequel.

This is a national reprise of the local broadcast of episode K12

---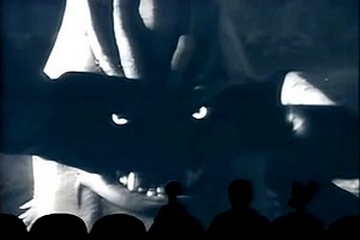 0311 - It Conquered the World [1956]


A well meaning scientist guides an alien monster to Earth from Venus, so that he can rid mankind of feelings and emotions - but only death and sorrow results.
The goofy looking monster, dubbed "Big Beulah", "Denny Dimwit", "The Tee-Pee Terror", "The Cucumber Critter", and "The Carrot Monster" by the crew, was nominated for the Most Laughable Concept for an Outer Space Invader. It lost to the walking carpet in The Creeping Terror.
This episode also contains the short Snow Thrills [1945]

---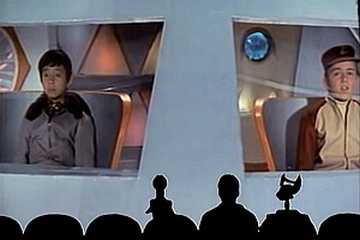 0312 - Gamera vs. Guiron [1969]




Alien babes kidnap two children, with a bait ship, and take them to another planet to suck knowledge from their brains, but Gamera follows and does battle with the knife headed monster Guiron.
The crew sings their own version of the Gamera song: Gamera! / Gamera! / Gamera is really neat! / Gamera is filled with meat! / We've been eating Gammm errr aaaa!
This is a national reprise of the local broadcast of episode K08.

Gizmoplex presents a live stream tribute to this episode on July 8, 2022.

---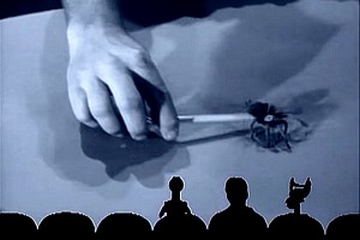 0313 - Earth vs. the Spider [1958]
aka The Spider



Teenagers from a rural community and their high school science teacher join forces to battle a giant mutant spider.

This episode also contains the short Speech: Using Your Voice [1950]

The short became an instant classic for riffing, with catchphrases like "Plenty of lip and tongue action."

---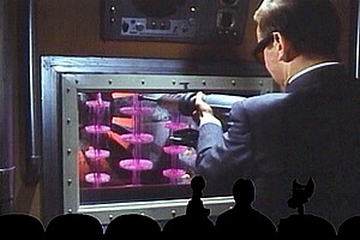 0314 - Mighty Jack [1968]




Espionage team "Mighty Jack", headquartered on a flying submarine, opposes the plans of Q, which is trying to take over the world using... um... ice that doesn't melt.

An incoherant and immediately forgettable movie made up of two episodes of a TV series. The crew sings a fantastic rendition of "Slow the Plot Down."

This is a national reprise of the local broadcast of episode K14

---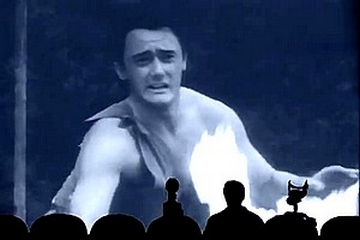 0315 - Teenage Caveman [1958]



A young man defies tribal laws and searches for answers. The result of his quest yields knowledge of past generations.
Roger Corman at his cheesiest with The Man from U.N.C.L.E., Robert Vaughn, as the titular teenager. Robert said he felt this was the worst movie ever made. The short "Catching Trouble" is the oldest piece of material MST3K ever presented.
This episode also contains two shorts: Aquatic Wizards [1955] and Catching Trouble [1936]

---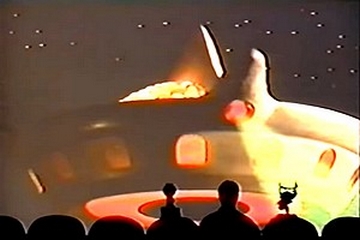 0316 - Gamera vs. Zigra [1971]
aka Gamera tai Shinkai kaiju Jigura




Space aliens arrive on Earth with their giant shark and intend to take over the planet but they must first destroy Gamera.

This episode marks the first appearance of Bridget Jones (Mike Nelson's wife) as contributing writer and occasional guest.

This is a national reprise of the local broadcast of episode K07

---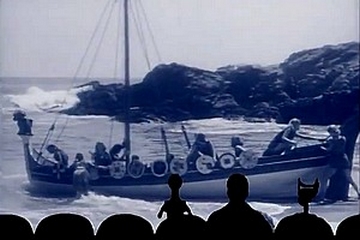 0317 - Viking Women and the Sea Serpent [1957]
aka The Saga of the Viking Women and Their Voyage to the Waters of the Great Sea Serpent


A group of lonely Viking women build a ship and set off across the sea to locate their missing menfolk, only to fall into the clutches of the barbarians that hold their men captive. There's also a cameo appearance by the sea serpent.
The women heading out in the viking ship nearly drown as the pilot of the tow boat (offscreen) fell asleep and the viking ship began filling with water.
This episode also contains the short The Home Economics Story [1951]

---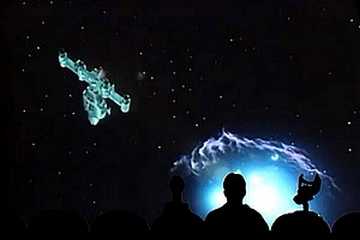 0318 - Star Force: Fugitive Alien II [1987]




In this second film compiled from two episodes of a Japanese TV serial, Captain Joe, reformed interstellar marauder Ken and the rest of the crew of the Backus-3 set off to destroy an alien race's super-weapon, face off with Ken's vengeful ex-lover Rita and confront the sinister leader of the marauding Star Wolves.

This is a national reprise of the lost episode K03

---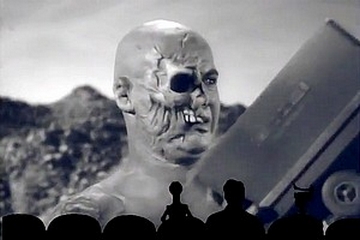 0319 - War of the Colossal Beast [1958]




Glenn Manning, The Amazing Colossal Man, believed dead after falling from the Hoover Dam, reemerges in rural Mexico, brain damaged, disfigured, and very hungry.

This episode also contains the short Mr. B Natural [1957], the sexually ambiguous spirit of music, is considered by many fans to be better than the main feature.

---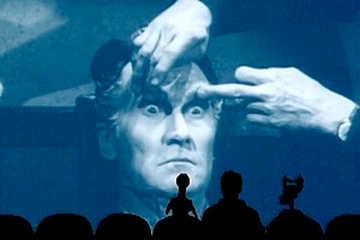 0320 - The Unearthly [1957]




Mad doctor uses patients at his isolated psychiatric institute as subjects in his attempts to create longevity by surgically installing an artificial gland in their skulls, with disastrous results.

This episode also contains two shorts: Posture Pals [1952] and Appreciating Your Parents [1950]

---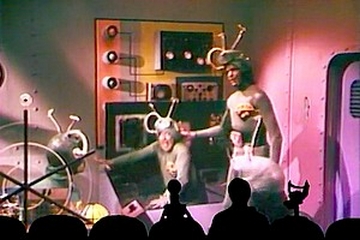 0321 - Santa Claus Conquers the Martians [1964]





Martians, upset that their children have become obsessed with TV shows from Earth which extol the virtues of Santa Claus, start an expedition to Earth to kidnap the one and only Santa. Their weapon of choice is, of course, the Wham-o Air Blaster.

Pia Zadora makes her debut film appearance in this film as a child. The MST3K hit, "A Patrick Swayze Christmas", is sung during one of the host segments.

---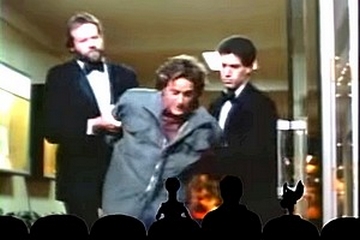 0322 - Master Ninja [1984]
aka The Master (TV Series)





An aging American ninja master and his headstrong young apprentice search for the elder man's daughter. This movie was compiled from episodes of "The Master" TV series.

In the first barroom scene, after being harassed by the sheriff, Master Ninja proceeds to trash the place. Why? What did the owner of the bar do to him to deserve all that damage? Geez!

---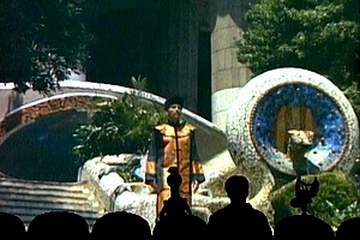 0323 - The Castle of Fu Manchu [1969]




The evil mastermind, Fu Manchu, plots his latest scheme to basically freeze over the Earth's oceans with his diabolical new device. Opposing him is his arch-nemesis, Interpol's very British, Dr. Nayland Smith.

The opening song is great! The film is so bad that Joel, the bots and the writers were legimitately traumatized by the experience.

---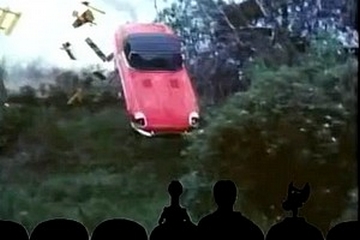 0324 - Master Ninja II [1984]




More adventures of the aging American ninja master and his headstrong young apprentice in the second movie compiled from episodes of "The Master" series.

Watch for Crow going completely off the rails with his Cryptkeeper impression during a grave digging scene.

---
&lt Season 2 || MST3K Index || Psychotronic Movie Review Index || Season 4 >